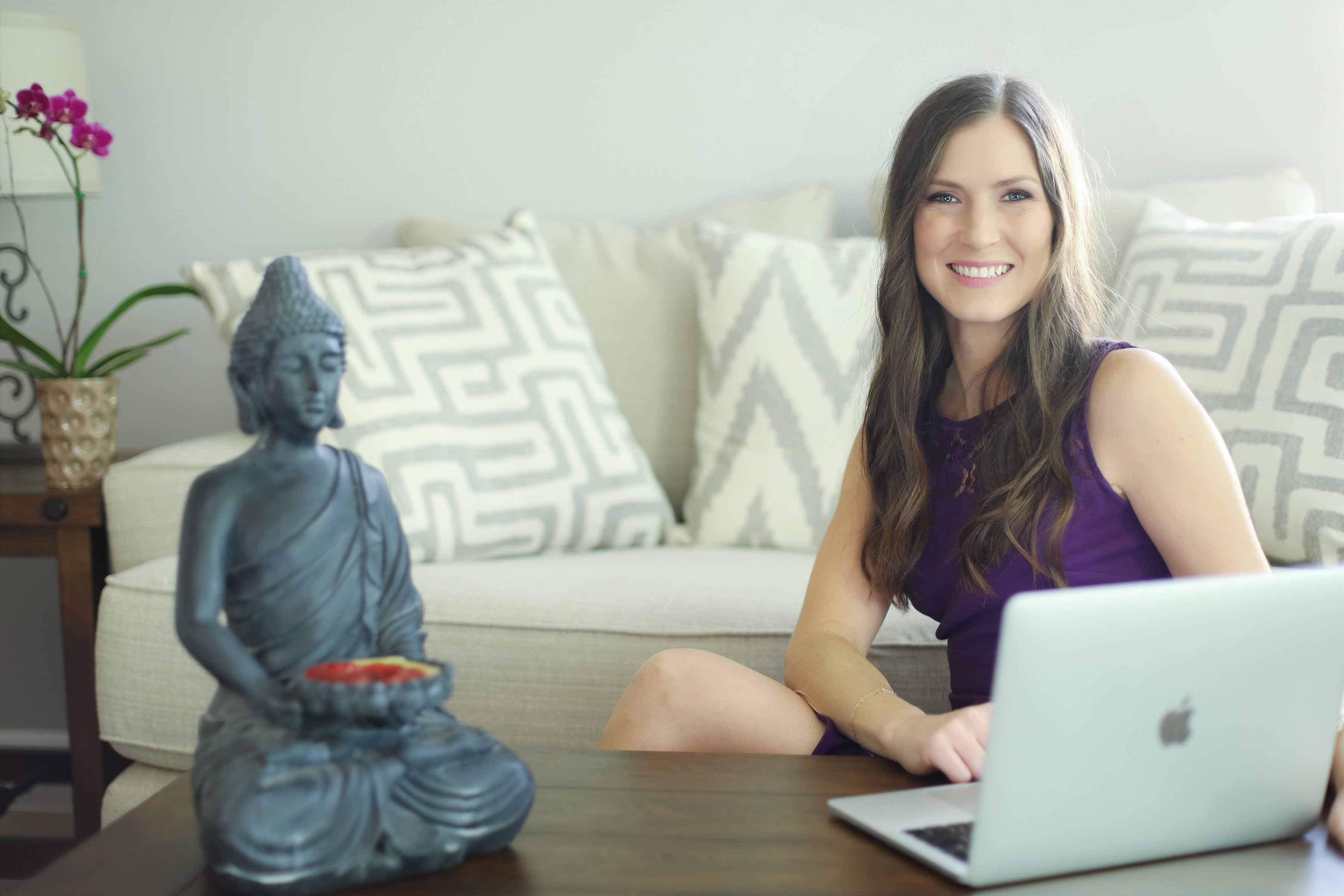 Introducing…
Balance And Joy Discovered 16-Week Coaching Program
Rediscover who you are and re-ignite your inner strength to live a full life.
With Sara Mueller, Well-Being & Life Balance Coach, E-RYT, and Founder of JoyDiscovered.com
Book your Balance Breakthrough Session with me now!
The Balance And Joy Discovered Coaching Program is for busy working moms with demanding careers who deserve to have it all, but are barely hanging on. This 16-week transformative journey will bring harmony to all major areas of your life. You'll eliminate what's sucking vitality from your days and create space for more energy, presence, connection to your spouse and family, and a life balance that you can sustain.
If you are a major breadwinner of your family who gives all you have (time, energy, money) to everyone else, leaving little to nothing for you…
If you wish you were more patient with your children and are concerned they aren't getting the best of you during your limited time together…
If you get angry at your spouse for not contributing equally to your household, and feel you take on all the mental labor of your family…
If you are lacking a sense of passion and purpose, and haven't discovered your whole, complete self yet…
Then the Balance And Joy Discovered Coaching Program is for you.
---
Dear Sister Seeking Balance,
You are supporting your family with your career, showing the workplace the power of women. You would move heaven and earth for your children, even give them your last breath. You're the CEO of your family, managing everything – without you, it would all crumble.
But because you are juggling so much and pulled in a million different directions, you are one misstep away from dropping a critical ball… or all of them.
Your family relies on your income, so you carry the stress of financial responsibility and performing at your job on your shoulders. You love your children, but at the end of the day you are exhausted and impatient and don't want to play. The girl you once were – happy, vibrant, passionate, and fun – hasn't made an appearance in a really long time. And while you love your spouse, you are starting to resent him or her because you take on more work and mental labor within your home.
Sister, while you may want to change your significant other, the truth is, the only person you can change is yourself.
By joining Balance And Joy Discovered, every part of you will change for the better. In fact, you will transform your whole life. You will carve out more space in your life for things that bring you joy. You'll be a present parent and outstanding role model for your children. You'll communicate better with your spouse (the first steps towards his or her own initiated change). And you'll live a full life with joy – the way you've always imagined.
---
You desire:
More energy, because we both know you're running on empty!
Calm, ease, patience, and resilience in the midst of chaos
To contribute to the well-being and healthy development of your children (Let's be honest, one of our greatest fears as moms is that we'll F*#% up our kids!)
A better partnership and stronger communication with your spouse
Time for fun and relaxation (and really, more time across the board!)
An organized, clean home that doesn't drain you in the process of cleaning
More fulfillment in your career, the kind that leaves a smile on your face (even on Mondays)
A greater sense of passion and purpose in your life, what you truly deserve!
And most of all: 
The ability to have it all without losing yourself in the process
The problem is:
You are so busy managing all the roles you lead, you haven't carved out space for your own personal growth and development. Since all facets of our lives are connected, you can't expect to be weak or unsteady in one area, yet strong and successful in all the others. You need balance.
Maybe you:
Think you don't have time for self-care, working out, or eating healthy?
Give too much to others and don't know how to create space for yourself?
Think you should meditate or practice yoga or breathe more, but have no time to do it and no idea how to start?
Have toxic relationships in your life that are sucking the time and energy out of you?
Are half-assing your way through the day with way too much on your plate, causing your relationships with your husband and children, career, and health to suffer?
Haven't thought about your personal goals since your children were born?
Haven't jumped out of bed with joy in your soul and excitement in your step in a really long time?
Sister, take a deep breath…
You don't have to continue down this same path, hoping things will change when your workload lightens, or your husband gets the hint to help more around the house without you having to ask, or your kids go off to college.
You can stop dreading your to-do list and stop worrying that time is too quickly passing you by.
You can discover joy again.
Because the Balance And Joy Discovered Coaching Program and I are here to bring about the makeover your life needs and the one you deserve.
Book your Balance Breakthrough Session with me now!
---
I am a Well-Being and Life Balance Coach. That means I help busy working moms like you transform their lives to create more space, energy, joy, and connection to self and others.
As an Experienced Registered Yoga Teacher (E-RYT 200), Reiki Level 1 Spiritual Energy Worker, and avid traveler, I've led or co-facilitated 17 (and counting) group transformations, and participated in over 55 personal development workshops and yoga teacher trainings across the globe.
The work that I've done, continue to do, and now teach, has helped me build a full life that I love.
But it hasn't always been this way for me.
Before I understood the philosophy behind the teachings of yoga and transformation, I was worrying about my job constantly and not sleeping well. I was drinking too much rather than dealing with parts of my life that weren't working. I was fighting with my brothers and angry at my parents. I was ten pounds overweight and yo-yo-ing between being happy momentarily and wanting to move across the country to start my life over. (Hint: Wherever you go, there you are. Moving never would have solved anything!)
I lacked friends that truly understood me and a community that supported my greatest self. I talked way too fast and was afraid to let people see who I really was. Limiting beliefs ruled my world and I was pushing my husband away. In fact, our marriage almost ended in divorce before our children were even born.
It took being brought to my knees as I hit rock bottom with the near-ending of my marriage to finally accept that I needed change in my life. I had to start understanding and implementing the tools I was being exposed to in order to live the life I wanted.
So, my husband and I spent thousands of dollars on couples' therapy and worked individually with a life coach for over a year. I continued my yoga teacher trainings and got serious about the transformational workshops I was taking part in.
My life began to shift.
My health improved. I started enjoying my executive career and making over six figures. I developed meaningful friendships. I honored my calling to become a yoga teacher and taught the practice that changed my life to thousands. My husband and I healed our relationship. We got to a healthy, united place where we were finally ready to bring children into this world. Before our transformation, several attempts at pregnancy had ended in miscarriage. I believe God had a bigger plan for us, one that involved taking care of ourselves through our struggles so that when we were ready, we'd be able to create the best life for our babies.
After my children were born, I mourned the loss of my previous life. But I recommitted to using my tools and continuing to do my work so I could bring elements of who I was before I had children into this new, more demanding, life I was so incredibly grateful to have. I hired a business and mindset coach to bring more passion to my life.
Please understand, sister, I am far from perfect. My life gets hectic and curveballs are thrown at me, but that's how life is. (Curveballs are some of our greatest teachers, by the way.) But I've developed tools that, no matter what, allow me to live each day with presence, joy, and purpose.
Looking back over 20 years of personal development and transformational work, I began to notice similarities between all the teachings I was exposed to. I paid attention to the tools and exercises that were producing the most significant life-changing results for me and thousands of others. These teachings became the foundation of the Balance & Joy Discovered Coaching Program. Once again, I have honored my calling and am committed to sharing this program with women like you.
Why?
Because I believe women shouldn't have to choose between having a career or having children. We can have it all. We can have it all without bags under our eyes and a snarl from our mouths. We deserve a gleam in our eyes and a skip in our step.
I also believe that when women create balance and own their strength to live a full life of joy, our families, businesses, and communities get stronger. Thus, our world improves. And I am committed to playing my part to make this world a much better place.
Book your Balance Breakthrough Session with me now!
---
What to expect from the Balance And Joy Discovered Coaching Program?
Balance And Joy Discovered is designed to take you from bitter and blah to balance and bliss. You will reconnect to yourself and be the rock your family needs to thrive.
In four months with me, you will:
Raise your energy level and the amount of positive thoughts that pass through your mind.
Become more focused and responsive (rather than reactive), and patient and present with your children (and all others in your life, really!).
Create an exercise, vitality eating, and mindfulness routine you can stick to no matter what your schedule is like.
Modify your home to have more space and be organized, warm, and supportive of a balanced family.
Eliminate unnecessary stress and minimize mom guilt.
Build stronger relationships and community, including better communication and partnership with your spouse.
Put your career on a path for more fulfillment, advancement, and support.
Merge your pre-children self with your current personal desires to bring more purpose and passion to your life.
Uncover what truly brings you joy and make space for it in your life.
How will we accomplish the above?
I've developed the following curriculum that is segmented around the common definition of yoga as the connection of body, mind, and spirit.
Note: You do not need to be a current yoga practitioner to be successful in this program. All levels of yogis are welcome!
Curriculum milestones include:
ORIENTATION
Intention & Time Management
Create space in your full life for the work you need to do in order to get the results you desire in this program (you'll need about 2 – 3 hours a week). Shift your mindset to begin attracting what you want – and deserve – into your life.
Awareness & Authenticity
Gain clarity on where shifts need to happen in your life. Bring more authenticity into all areas of your life.
Part 1: BODY
Elevating Your Physical Space
Identify and establish a weekly yoga or exercise program that works for you.
Eating For Vitality
Gain tools to identify and choose foods that increase your vitality. Establish mindful eating habits, including ways to move through unhealthy cravings.
Elevating Your Living Space
Make literal space in your home that will allow bigger and better things to come into your life. Create a home and work environment that supports balance and thriving.
Part 2: MIND
Elevating Your Mental Space
Establish a daily mindfulness practice that works for you.
Releasing Limiting Beliefs
Uncover and release limiting beliefs in your life that are holding you back from owning your strength and living in full joy.
Cleaning Up Relationships
Heal and strengthen relationships with your family and friends. Release resentments. Become a better listener and gain new perspective.
Career Fulfillment
Reinvigorate purpose into your daily work. Become more efficient. Ensure you don't fall prey to things that hold many women back in the workplace.
Part 3: SPIRIT
Abundance
Attract more wealth into your life with a shift in mindset. Create a budget for things that fill your soul.
Self-Love
Determine how to give to yourself so that you have more to give to others. Reduce mom guilt. Make space in your life for things that bring you joy.
Spirit & Purpose
Discover ways to bring more of your unique spiritual beliefs into your life. Align more closely with your purpose. Define your values so you can live in integrity and ease.
Part 4: CONNECTION
Enhancing Love, Partnership & Communication With Your Spouse
Contribute to the health of your most important relationship. Learn how to communicate better, set healthy boundaries, and create an environment for your relationship to thrive.
Present & Patient Parenting
Create more joy during time with your children. Embrace tools that instill more presence and patience.
Community + Support System
Fill in the gaps to create a community and support system that encourages your living a full, balanced life.
Balance & Bliss
Set clear intentions for your future. Develop a strategy for living the life of your dreams.
Book your Balance Breakthrough Session with me now!
---
How It Works
By enrolling in the 16-week program, you'll get:
16 Weekly 50-minute 1:1 coaching calls with me, Sara Mueller, Well-Being & Life Balance Coach that will guide you towards the transformation you desire ($5000 value)
Welcome Packet to set you up for success ($150 value)
Weekly Accountability – I will not let you off the hook to achieve the life you deserve to live! (Priceless!)
But that's not all! You will also receive:
Personal Development Reading List ($50 value)
Mindfulness Practice Success Guide ($50 value)
Subscription to the Joy Discovered newsletter. Here I share the wisdom I gain about living a full life, plus Real Women Real Strength profiles that highlight how working moms have overcome challenges and become the rock stars they are.
Payment plans available.
---
How To Join The Program:
Step 1: Book your Balance Breakthrough Session with me so we can ensure the program is the right fit for you.
Step 2: Upon scheduling your Balance Breakthrough Session you'll be asked to fill out the Program Application to ensure you are a right fit for the program. This program is a high touch, VIP experience. I have limited availability and will only work with women who are committed to their transformation.
Step 3: Upon joining, we'll immediately schedule your first orientation call. From there you have access to my scheduling system and can schedule our weekly calls around your availability.
Step 4: You will also receive a Client Agreement via email. Upon signing and paying for the program, you will receive your Welcome Packet, and be on your way to balance and bliss!
---
What Makes This Program Unique?
Well, largely, I am what makes this program unique. People describe me as a down-to-earth woman who is accepting, compassionate, calm, grounded, determined, and strong. In my yoga classes, my students say I kick their ass in a sweet way. They are surprised at how hard they work with my gentle voice guiding them through.
I will be the same way with you. I will kindly guide you to your growing edge and support you through the challenging work that will dramatically impact your life.
While this program is centered around yoga philosophy and results-producing transformational work taken from many sources, it is grounded in reality. I have been in your shoes and I carry your same responsibilities. I have done the work myself, and can share my own experiences that will inspire you.
My Promise To You:
During our 16 weeks together, I will be real with you and hold you accountable. I will help you get to know yourself better and tap into your own strength that has always been within you. You will make little shifts in your life that lead to big changes. You'll live in more awareness, connection to your family and others, and joy.
---
Balance And Joy Are Within Your Reach If You:
Are 100% committed to doing the work. Yes, time is hard to come by and this work can be challenging. But you realize you need to make changes now so that you don't drop any of the balls you are juggling.
Are coachable and open to feedback. My greatest coaches have been a mirror for me. And while it sometimes sucks to take in what I see reflected back, these reflections have led to my greatest transformations and changed my life.
Do not make excuses. Period.
Are willing to invest in yourself to reach your goals. At first, I wasn't happy about forking over thousands of dollars for couples' therapy and life coaching when my marriage was hanging by a thread. But the results of the investment are priceless and the alternate path of divorce would have cost at least 6X the investment we made.
Are open, curious, and willing to wholeheartedly take this program on. This program works. I ask you to set aside judgment, comparison, and questioning for 16 weeks and listen to me as your coach. Your results will be a testament to its success.
Admit That You Are Just Not Ready Yet If You:
Are not open to experimenting with mindfulness techniques to find what works for you.
Are not willing to dig deep and face your raw truth head on in order to make shifts that will drastically change your life.
Are not willing to prioritize yourself. You cannot give fully to others if you cannot commit to also give to yourself. You don't need to know "how" yet, you just need to be willing.
Want to blame others. The easy path is to sit in blame, blaming the way your spouse was raised, your parents, society, your hardships, or unique situation. But blame will not make anything different, and the only person you have complete control over changing is yourself.
Are hoping for a quick fix. This program takes only a few hours a week for 16 weeks but it is not a "quick fix." Some tools and insights will make immediate change in your life, but you must be committed to continuing to practice what you learn.
Sure, you can keep going it alone, hectically moving through the motions of your day. Your career and health will be blah, your marriage bitter, your children grown with you questioning whether you spent enough precious, silly moments with them. Your life will be BUSY, not FULL. In fact, you'll feel like you never really lived your own life.
Or you can put an end to busy, bitter, and blah and join my program where I'll guide you to reconnect with yourself, achieve balance, and live a full, blissful life.
Book your Balance Breakthrough Session with me now!
---
FAQs
How can I find the time to do this program with my busy schedule?
Early in the program we'll discuss ways to better manage your time and fit things that are important to you into your schedule, no matter how much you have going on.
What if some of the modules aren't relevant to me?
I ask that you approach this program with an open mind and curiosity. The beauty of a VIP 1:1 coaching program is that we go at your pace. We can breeze through modules or break them down into several week deep-dives depending on what you uniquely need.
I don't practice yoga. Can I still be successful in this program?

Yes! While I strongly suggest you develop a weekly yoga practice (I'll help you find the right class for you if interested), it's the philosophy of yoga that is a cornerstone of this program and that produces dramatic results. Remember, no yoga experience is necessary.
I'm in! What types of payment do you take?
All major credit cards. Payment plans are available.
I have more questions; how can I get them answered?
No problem! Please email me at sara@joydiscovered.com
---
Customer Service
Need help? Got questions? I am just an email away at sara@joydiscovered.com.
---
Ready to get started? Book your Balance Breakthrough Session with me now!